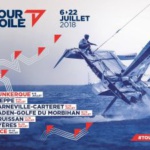 Rendez-vous incontournable du mois de décembre, le salon « Nautic » de Paris a ouvert ses portes le samedi 2.
Conférences, présentations des parcours des courses 2018, rencontres avec les plus grands compétiteurs, remises de prix, …  il y avait de quoi ne plus savoir où donner de la tête !
Mais l'événement qui a retenu l'attention de « Bel-Yachting » est évidemment la divulgation du parcours 2018 du « Tour de France à la Voile » …
Stop ! Ne dites plus « Tour de France à la Voile » mais « Tour Voile » ! Nouveau logo et nouvelle appellation sont au programme de 2018 et ce ne sont pas les seules innovations !
« Réduction de parcours » d'abord : du 6 au 22 juillet. Qui dit parcours plus court dit moins d'actes (d'étapes) : 7 au lieu de 9. Dix-sept jours dont quinze de course contre 18 l'année passée.
Prologue et postlogue sont supprimés et remplacés par des manches en « stade nautique » … dès Dunkerque les coureurs seront mis dans le vif du sujet !
De Dunkerque à Nice, en passant par Dieppe, Barneville-Carteret, Baden, Gruissan, et Hyères, entre « stadium » et raids (au nombre de cinq), aucun répit ne sera donné aux équipes !
Changement également côté terre : le sport sera au cœur de l'événement et les compétiteurs mis à l'honneur dans la « Base du Tour Voile » face à la mer.
En résumé : un parcours intense, un rythme de fou, moins de raids, plus de manches en « stade nautique », pas de droit à l'erreur …
Rendez-vous début mars pour les entraînements, les courses d'avant-saison et  le 25e Tour de « Bel-Yachting » sous les couleurs de … « to be continued » !